Mathurin Méheut, teacher
Mathurin Méheut was just as enthusiastic and friendly with all the students. He helped me to become more daring and to develop a certain individuality. I tried to achieve his astonishing spontaneity. Right away, he began organizing trips for us to the porcelain works in Malicorne, Quimper and St-Méen-le-Grand so we could learn about different materials and techniques. We also studied stencilling and pounce transfers, glass etching and linocuts, and had to do studies and compositions on religious and historical themes in murals and illustrations. He sent us out into nature to sketch, draw and do gouache paintings on a theme, in order to study plant life, animals and people going about their daily rounds. He himself was criss-crossing the countryside doing the same thing since he was completing the illustrations for Les vieux métiers bretons, his meticulously researched book on the traditional crafts of Brittany. Méheut sent to Douarnenez for entire crates of crabs, sea urchins, sculpins and every kind of seaweed with their distinctive shapes and colours. He encouraged us to observe the distinct characteristics of each individual organism and then to see it as an example of its type. Frogs, water lilies and every other natural subject served as our models. Since I loved animals, I was entirely in my element and made good progress.
The other teachers were furious to see a whole group of students so taken on Méheut's favourite methods and subjects. He made it clear that despite all the hardships we had to endure because of the war, we were still the privileged ones and we had a duty to bear witness to the times we were living in, observing what we could about the changes all around us, coming faster all the time. "Don't sell your originals," he would say. "Keep them to inspire you and for future reference!"
Frédéric Back, Odette Weil, Jacques Marie, Pierre Guyot, Maria Malinda, Jeanne Baglin, Mathurin Méheut (École des Beaux-Arts de Rennes, ca.1941).
Frédéric Back and Jeanne Baglin at the end-of-year show.
Frédéric Back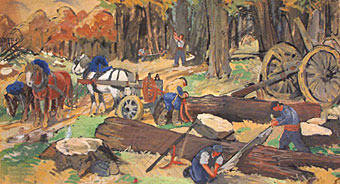 Brittany.
Student work.
Student work.
Student work.
"An exhibition where students show their mastery."
Letter (transcribed) from Mathurin Méheut to Frédéric Back.